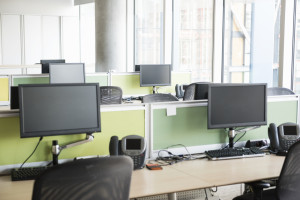 In order to operate a business, companies need equipment. Many companies choose the flexible option to lease the equipment they need in order to conduct their business.
Rocycle specializes in lease returns IT and electronic equipment. When the equipment lease is ending, we can take it from there. We work with several lease financing companies and offer comprehensive end of lease services to leasing companies including: de-installation, pack out, logistical arrangements, auditing, testing, processing, remarketing, and recycling. We even offer repossession services when necessary.
Being IT and electronic leased assets-focused, we can often beat the values other asset management or IT recyclers can give you. We'll even provide estimates of values prior to receiving the equipment when requested.
As proud members of the Equipment Leasing and Financing Association, we stay abreast of the latest industry information, trends, and laws. With a 10%* increase in new business volume over 2014, the leasing and finance industry is on an upward trend. As these leases end, let Rocycle handle your end-of-lease IT assets to ensure you get the biggest value on your IT and electronic equipment.
*Source: Monthly Leasing and Finance Index May 2015. For more information, please visit the ELFA website at www.elfaonline.org