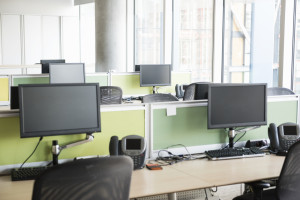 In order to operate a business, companies need equipment. Many companies choose the flexible option to lease the equipment they need in order to conduct their business.
Rocycle specializes in lease returns of IT and electronic equipment. We work with several lease financing companies and offer comprehensive end of lease services to leasing companies including: de-installation, pack out, logistical arrangements, auditing, testing, processing, remarketing, and recycling. We even offer repossession services when necessary. When the equipment lease is ending, we can take it from there.
Being IT and electronic leased assets-focused, we can often beat the values other asset management or IT recyclers can give you. We'll even provide estimates of values prior to receiving the equipment when requested.
 Global digitization has been in progress for a while but the pandemic has accelerated this process in large corporations to small businesses. Brad Shapiro, Vice President for Enterprise, HPE Financial Services, a subsidiary of Hewlett Packard Enterprise states, "There's now a real urgency around creating digital models and experience, and you can see it in businesses of all sizes, from Amazon to my local pizzeria, where I can order and pay online and pick up contact-free."*  As these leases end, let Rocycle handle your end-of-lease IT assets to ensure you get the biggest value on your IT and electronic equipment.
*Source: We zero in on the top four in ELFA's What's Hot, What's Not: Equipment Market Forecast 2021. To view this full article, please visit the ELFA website at https://www.elfaonline.org/news/magazine/all-issues/issue/article/may-june-2021/what-s-behind-the-hottest-equipment-markets.