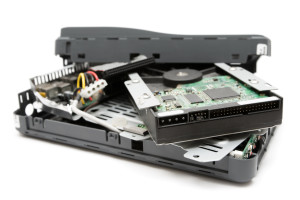 What information do you have on your computer? Have you made an online purchase? If so, your credit card information could be stored. Do you log into your bank account online? If so, your banking information could be accessible. Do you have customer information or data on your computer? How about financial records, medical information, or social security info, or employee data? You need Information security and data security when your IT asset leaves your facility.
Often, you hear about data security breaches. Databases are hacked and sensitive information gets compromised. Many companies have data security positions to ensure their information is well protected. But what about the information on the physical hardware? Just one hard drive can contain hundreds of thousands of files. At Rocycle, we have procedures in place to make sure your sensitive information is handled safely and securely. You can have peace of mind knowing your data will be made inaccessible. We comply with DoD standards for data erasure. The policy states, "Classified material may be destroyed by burning, shredding, pulping, melting, mutilation, chemical decomposition, or pulverizing (for example, hammer mills, choppers, and 5-7-1 DoD 5220.22-M, February 28, 2006 hybridized disintegration equipment).*"
If a hard drive fails testing or if our customer requests, Rocycle offers hard drive crushing data destruction services. In our facility, we crush the drives so they may not be inserted into a machine again. It renders the drive useless by breaking the internal components and bending the drive case. This ensures data privacy. The force is sufficient to mutilate the drives. The drives are then irreparable and unable to be reconnected or inserted into another machine. By rendering the drives useless, no information can be accessed from it. The crushed drives are sent on to a specialized facility the breaks them down into base materials and those base materials go on to have a new use as other products.
For our customers' records, we log the serial numbers of each drive and notate that it has been crushed. This information is provided to the customer on the audit. Certificates of destruction are also available.
*Source: DoD 5220.22-M, National Industrial Security Program Operating Manual Section 5-705. Methods of Destruction. http://www.dss.mil/documents/odaa/nispom2006-5220.pdf