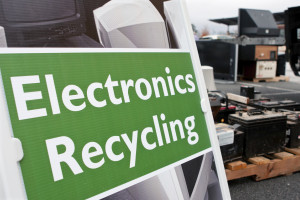 As an IT recycler, it seems that the biggest roadblock to proper electronic recycling is that people simply don't know where they can recycle electronics. If you are in or around the Tampa Bay area, and you have a small amount of electronics, you can bring your old electronics to our facility. If the items still have value, after an audit of the equipment, we may even offer you money for your items. If the items are obsolete or broken, we will recycle your electronics properly ensuring they do not add to the e-waste problem.
If you have a business that has larger quantities of electronics you need recycled, give us a call! We can work with you to pick up the equipment or have it delivered to us for auditing and processing. Rocycle offers electronics recycling in the state of Florida and nationwide.
Individuals that need electronics recycled and are not in the Tampa Bay area still have many resources at your disposal. Check with your local solid waste facility and ask if they have an e-waste facility. Contact your local electronics stores and ask if they offer electronics recycling. And if all else fails, a quick Google search will usually yield a multitude of electronics recycling results to choose from. To get the info on the closest facility to you, try checking the Google local results in the mapped area.
If you have electronics you need recycled, reach out to us today!