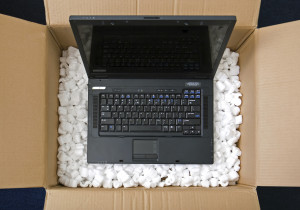 A packout or pack out is an industry term that means to pack up equipment. At Rocycle, we offer local packout (local pack out) services in Tampa, Clearwater, Lakeland, Sarasota, Orlando, and throughout the state of Florida.
Our trained technicians can go onsite to your location and pack up your IT assets designated for removal. We will handle your equipment with care. We'll carefully wrap fragile items like monitors to be sure the equipment arrives at our location in the best shape possible. Depending on load size, we will box and/or palletize your IT assets, computers, and electronic equipment creating manageable loads. This method allows us to assure you that any remarketed equipment will retain the highest ROI possible.
If equipment needs to be palletized, we'll stack it properly and shrink wrap the pallet disallowing equipment shifting and movement while palletized. Our goal is always to maximize your company's IT investment. Whether it's just a few boxes or an entire building full, the next time you need equipment logistics for your IT asset removal, give Rocycle a call!